You can use this option when you want to import a test available from the test library.
For instance, you are hiring for a front office executive, and you can click the Import option on the bottom right corner of the particular Test.

You can hover over the top right corner to see all the skills that are added to the particular Test.
Also, the number of skills already added, the test duration, and the number of questions is displayed.
When you click Import, you will get a popup with two options: View/Edit Skills and Invite Candidates and a message "Test has been successfully imported."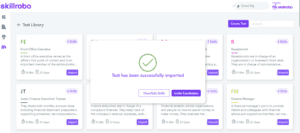 Now when you click on View/Edit Skills, you will see a window with the list of skills already added to the particular Test. If you want to add more skills, click on the Add more skills option on top.
Otherwise, you can click on View Candidates which will take you to another screen.